Get your binoculars ready! If you're an avid astronomer you might have spotted it already, a sky-bourne visitor heading towards us (well, past us, don't worry). This month you will be able to spot the recently discovered NASA's Green Comet as it makes its way through space! The comet (named C/2022 E3 (ZTF) and discovered by Zwicky Transient Facility) is already visible through a telescope. It will journey closer to the sun and subsequently Earth, astronomers report it will be visible to the naked eye as it passes by.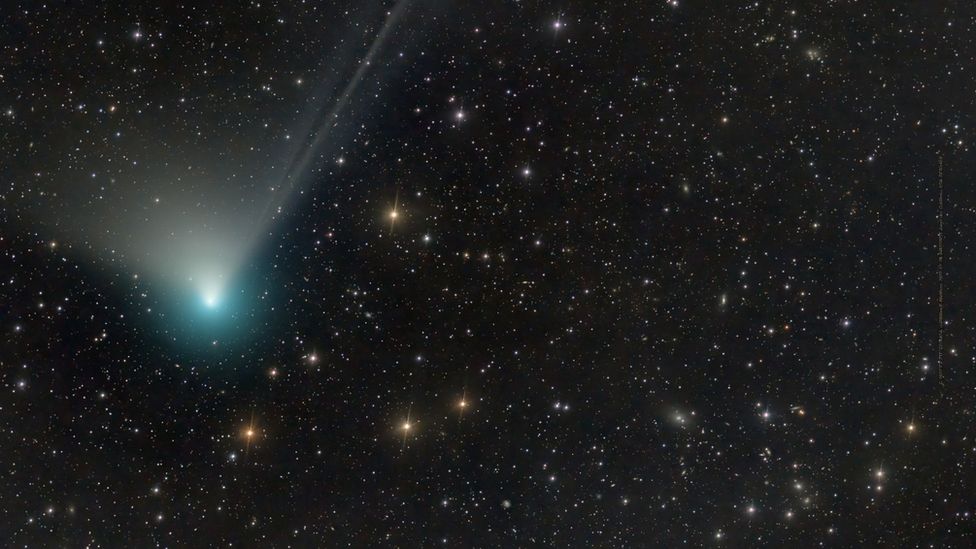 To see the once-in-a-lifetime comet here in the UK. Over the course of the month we should be searching for it in the very early mornings, a few hours before dawn. If you're keen for a clear view, keep your eyes peeled on January 21st! As the new moon provides a perfectly dark backdrop for ideal visibility and the opportunity to spot NASA's Green Comet with the naked eye. However, it should be easy to spot with binoculars throughout the month as it advances on its journey. According to Kate Howells of the Planetary society, if we're looking with just our eyes, we are looking for a "faint, greenish smudge in the sky rather than a bright object". Whereas binoculars and telescopes may get an even clearer view in the particularly dark skies.
THE COMET LIFESPAN
Not just a pretty face! It's said that aside from being a spectacular astronomical sight, comets such as this may have delivered life essentials like water and organic compounds to our early planet, and studying them gives us rare insight to the beginnings of our solar system. C/2022 E3 (ZTF), has a flight path of around 50,000 years which means the last time it passed by earth, the planet was still inhabited by Neanderthals. That makes it the longest travelling comet we've seen from earth in a long time, although it will appear dimmer than Neowise, that we saw in 2020, which had a path of roughly 6,900 years and was the brightest comet visible from the northern hemisphere since 1997.
While C/2022 E3 (ZTF) doesn't have an official nickname, people are lovingly referring to it as the green comet due to its green hued glow and greenish blue tail that follows. Scientists say that the green colour comes from compounds found inside the comet, mostly diatomic carbon and cyanogen are found in there, and as it gets close to the sunlight, that's what gives us that green colour.
The comet will reach its closest point to the sun on the 12th of January and will reach its closest point to Earth on the 2nd of February. So despite the freezing temperatures outside at this time of year, stargazing is a must over the next few weeks if you don't want to miss this historic astronomical event.
There are currently around 4,000 comets visible in our night sky, picture your own night sky and the stars on your special moment by creating your very own starmap.